NJ Deposition Surveillance
A claimant deposition, in terms of  insurance fraud investigations, is a meeting between the claimant and defendants counsel in which they discuss details of the case. It may be at either of the litigants attorneys offices. The defendants counsel asks the claimant questions regarding the accident, injury, or anything they find relevant to the case. The questioning and claimants statements will usually be written, documented, and/or recorded.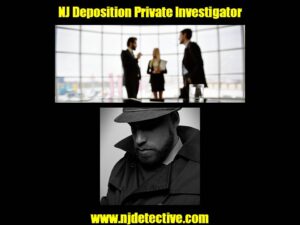 During insurance claim investigations, it may be in the best interest of the defendants counsel to hire a claimant deposition private investigator. Our expertise in NJ insurance fraud claims has shown us this can be a great opportunity to gather evidence for the case. On the day of the deposition, the attorneys know there are questions they ask that could dramatically help their defense. When you hire a private investigator on the day of the claimants deposition, the gathering of evidence is only beginning when the questioning has concluded and the claimant walks out of the office.
We document and take video of things like exaggerated signs of injury shown only while at the law office, and observe contrasting behavior elsewhere. A deposition can be a great place to begin a comprehensive surveillance investigation on a claimant. We are able to obtain things like clear photos of their face for identification purposes in the future, locations such as the claimant's address, and vehicle information. As long as court, trial date restrictions, or deadlines are not of concern, (we want to make sure we have time to get the evidence to the client/firm so they can use it in court) it may be a great idea to begin your insurance fraud surveillance investigation on the day of a deposition and work from there.