Property Research Investigator
One of our areas of expertise as NJ private detectives includes property research. Although our office is located in New Jersey, our databases are active nationwide. Therefore, we have the ability to perform real estate property search investigations all over the country. Through the use of our license restricted databases, we can obtain subject information that includes but is not limited to Address history & Details, Dates first/last seen at said address, Bankruptcies, Liens & Judgments and much more. We are licensed and insured New Jersey private investigators and this gives us access to certain databases and information which is not available to the general public. Many people are aware of the various people search, background check, and address history searches that are displayed from a simple Google search. However, these services have very unreliable information. Need good quality information the first time you search? Have you attempted the simple Google search or other unreliable search service? Would like to verify it's the best quality information available? Have these services failed to provide you with the best information? You can try your luck and continue using these services or you may need to run the information with a licensed professional.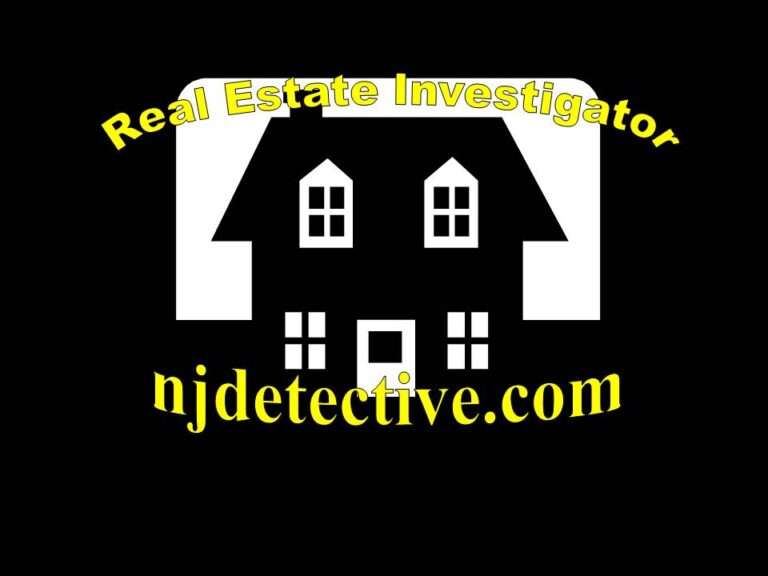 NJ Investigative Services Offered to Real Estate Professionals
These services have been able to assist real estate agents, brokers, attorneys, investors, private owners and others. Besides the comprehensive license restricted database searches, our investigators can perform physical spot checks on addresses. We have the ability to verify anything which can only be accomplished by a physical presence. Our agents will take photographs, document residents, non-residents, trespassers, and observe anything else that is required.
Call, fill out a form on the contact page, or email to inquire about any of our services! Real estate investigator contact information.