How Much Does It Cost To Hire A Private Investigator?
Are you dealing with a cheating spouse/infidelity, child custody or domestic situation possibly with alimony, cohabitation, fraud, or other? Are you considering hiring a private investigator for any reason to help through tactics such as surveillance? If so, you may be wondering, how much does a NJ private investigator cost?
Answer: It varies, things such as location, experience and skill of the investigator, hours, and services performed all influence the price and rates of a PI.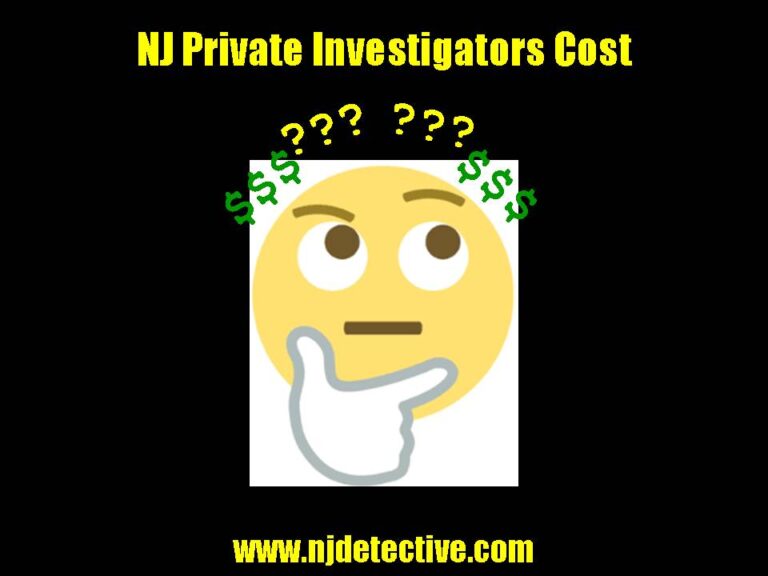 The most expensive areas to hire a private investigator are in cities. This is because of difficulty, expenses, and other factors. We always recommend at least two investigators in a city as well. In order to understand, one must put themselves in the situation for a moment. If pursuing an individual and they walk into a large corporate building that has many entrances/exits, we need to wait for their departure. The more men, the more areas that can be covered. Now imagine the subject exits on foot, walks two blocks, then enters a taxi, subway, or bus. This is a difficult situation no matter how many men are on it so you can see why this can be the most costly of locations. We have extensive experience working in New York City because most of our agents have worked with other companies that are licensed there. Therefore, our agents are among the most skilled and have dealt with virtually every scenario that can occur in the field.
Another factor when it comes to rates is the experience and skill of the investigator. As mentioned above, our investigators are used to working in NYC so their experience is top of the line. Our pricing is reflective of that. Obviously we will not charge as much in NJ as in NYC however this is the level of experience our investigators have. There are also areas of NJ that are similar to NYC so they may require more resources. Many private investigators are retired law enforcement with other sources of income and "gigs" so to speak. Nearly every investigator on our team is a career long private investigator. This means that all of their experience is in surveillance and private investigations. We also have retired law enforcement as consultants when needed, but our surveillance PI's have expertise in only this. When looking for an investigator one needs to consider that as with many services, you get what you pay for. Investigator "A" may be cheaper, but are you any better off if they do not get any results?
Hours
Most of our cases involve surveillance and in most cases the amount of hours needed will depend on the purpose of surveillance. If the client wishes to prove a spouse is cheating, this may be accomplished on the first day. This is an opportunity that can save the client cost if they observe their partners activities before hand, and have us perform the surveillance only during the suspicious times. A child custody case with cohabitation, for example, could require many more hours because we must establish the subject's place of residence. The more hours booked with us, the lower the surveillance rate will be.
Services
The final element to determine price is, what exactly do you need done? Our specialty is surveillance but do you need a criminal background search, financial search, vehicle tracking services etc.? This is a main reason why the price varies because these services, while similar, are very different in terms of time consumption.
Call Today For a FREE Quote Taylored Precisely to Your Needs!